RESUME
---
2021
FREELANCE GRAPHIC DESIGNER
Branding, Visual Identity, Logo Design, Packaging, Illustration, Apparel, Digital Content Creation, Deck Design, Custom Lettering, Font Creation, Photography.
VENICE BEACH FOOTBALL CLUB: DESIGNER

(JAN 2019 - PRESENT)
Apparel, Print, Packaging, Brand Development, Brand Strategy, Content Creation, Copywrite, Community Player and Coach
---
2020
FIVEBYFIVE DIGITAL AGENCY: JR DESIGNER
(SEPT 2019 - SEPT 2020)
Digital Banner Production, Web Design, Illustration, Concept Art, Deck Design, Digital Asset Creation, Brand Development, Team Building. Projects include working with Activision Blizzard Media, Treyarch, Epic Games, Marvel, Crash Bandicoot, Tony Hawk Pro Skater, Call of Duty, Fortnite, Irvine Company and more.
THE NORTH FACE: MODEL
(NOV)
Hired to model TNF Vectiv trail-running shoe and new apparel campaign, which released in Feb. 2021
EA SPORTS FIFA 2021 x VBFC: VIRTUAL APPAREL DESIGNER
(AUG)
Hired to create 7 apparel items for FIFA 2021's Volta series for players to achieve and unlock for their own player avatars. Each item was made usable in CAD files, packaged and delivered with no questions
asked. This
collection was also made available for physical purchase at
venicebeachfc.shop.
---
2019
OPTIMIST STUDIOS: JR FREELANCE DESIGNER
(JAN-MARCH)
Created lettering, merch and signage for UberEats x SXSW event, Packaging Concept Art for YouTube 2019 BrandCast, and digital ads and email campaigns for Google event, think2019.
VBFC X KYLIAN MBAPPÉ KIT DESIGN
(JUNE)
Designed, produced and hand-delivered special Venice Beach F.C. jersey for PSG's French star and FIFA World Cup winner, Kylian Mbappe during his visit to Los Angeles.
---
2017/ 2018CHARLESTON BATTERY: PRO SOCCER PLAYER/
IN-HOUSE DESIGNER
Played as a central midfielder, then walked over to the office where I created themed home game campaigns to advertise towards fans and families. Here I was responsible for the art direction of each campaign, all digital and print banner advertisements for our jumbotron bilboards, posters and local newspaper, as well as creating the specialized booklet for season ticket holders.
---
2016
UNIVERSITY OF SOUTH CAROLINA
Bachelor of Fine Arts
Focus: Graphic Design

MORE ABOUT RYAN
---
Hi, I'm Ryan and I'm a freelance graphic designer and illustrator focused on branding, visual identity, logo design, as well as apparel, digital content, packaging, and illustration.
I spent most of my life playing soccer and wound up going to school near home at the University of South Carolina to play, and with ambitions to play professionally. While at USC, I studied graphic design and illustration at the School of Visual Arts & Design. After graduating in 2016, I chose to find a job in soccer. Playing. I accomplished my dream goal of becoming a professional soccer player at the Charleston Battery, a second division pro team in the United Soccer League. It was awesome, but not all I had thought it to be. That lasted two seasons due to injuries and a calling to fully pursue design. At the start of 2019, I booked a one-way to L.A. and I've only looked back a few times.
I quickly began working freelance on projects for Google, Youtube, and UberEats at a big agency called Optimist Studios. From there the adventure began and I became heavily involved with Venice Beach Football Club, designing apparel, signage, and branding elements. Biggest highlight to this day: designing a specialized kit and handing it to FIFA World Cup Winner and Nike Superstar, Kylian Mbappé; on our court, in Venice. So dope.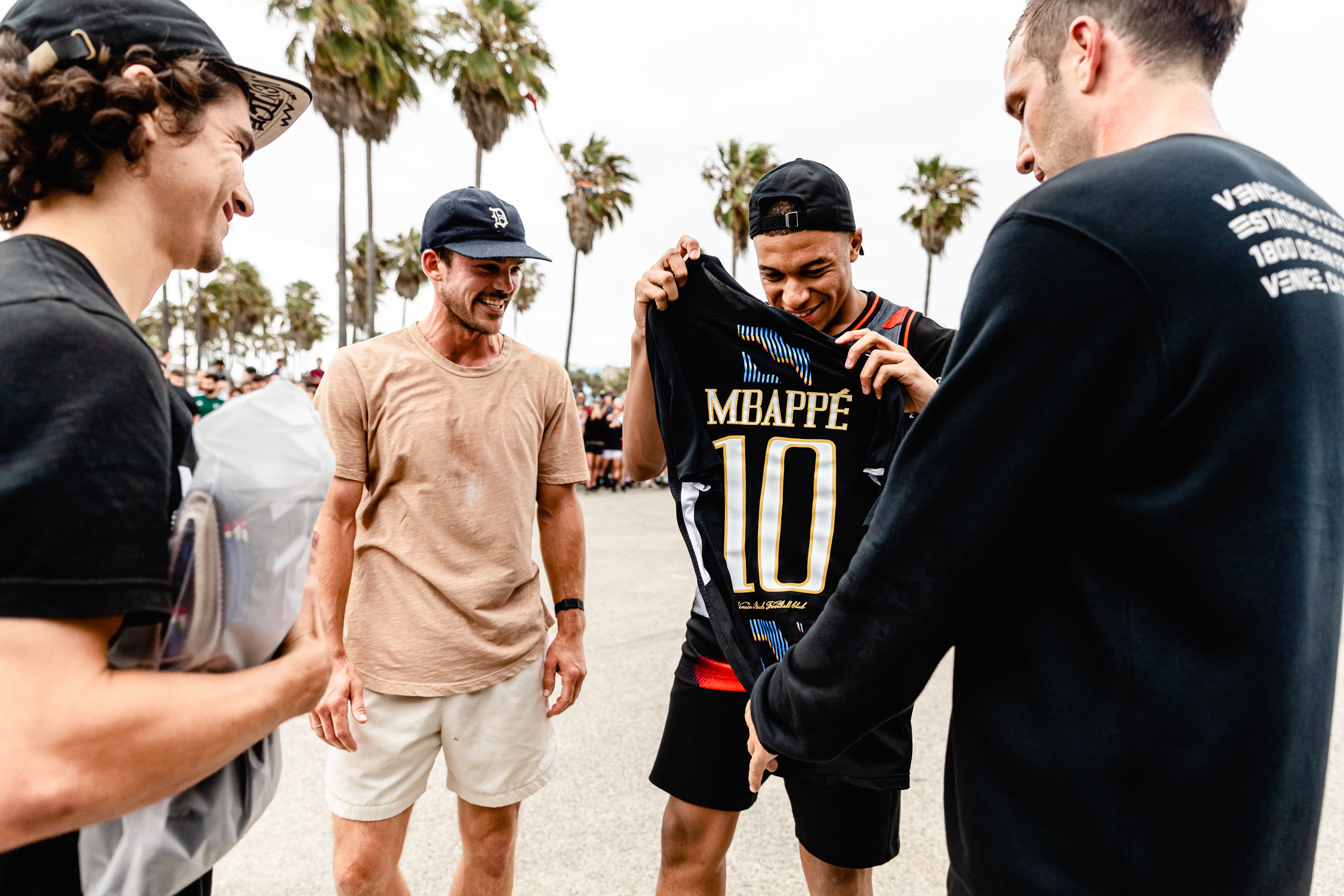 After about 8 months on my own, I began working at a digital agency called FivebyFive. Working alongside some heavy-weights in web design and animation, I soaked up as much as I could while pushing through banner campaigns for Call of Duty, Fortnite, Tony Hawk Pro Skater, Crash Bandicoot and other games. A year would do for me in that space and I was ready to jump back into the water.
Since doing so, I've completed brand identity and logo design projects involved with tech, fitness, soccer, apparel, canabis and resturant industries, and have worked with brands such as 100 Thieves, REVOLT TV, Adidas Runners LA, The North Face, and a variety of start-ups.
Thanks for reading and feel free to contact me to chat about working together on something exciting. Thanks︎
INTERESTS
---
SPORTS. RUNNING. HEALTH. OUTDOOR STUFF. SURF. SKATE. PRINT. FASHION. APPAREL. MUSIC. FILM. ART.